I made this novel magnetic LED lamp from beechwood. The inspiration came from the Heng 'Balance Lamp', popularised by the platform Kickstarter. I came up with a unique design idea for my magnetic lamp and went to work. Using steam, I bent the wood into the desired shape. The light source is an LED strip that was set into the wood. The strip is controlled by a micro-switch which is activated with the help of two
rod magnets S-06-08-N
hidden inside the two wooden discs. As soon as the magnets attract each other, the wire is tensioned, which activates the micro-switch and lights-up the magnetic lamp.
The way this wooden magnetic lamp works seems almost magical. The LED strip used here is actually a rather simple lighting element. But in combination with the unique design, this lamp turns into an eye-catching statement piece – no matter where it is displayed.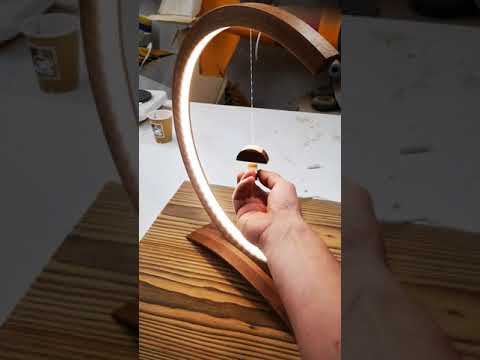 The entire content of this site is protected by copyright.
Copying the content or using it elsewhere is not permitted without explicit approval.