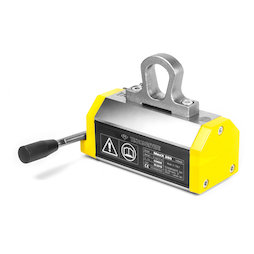 Lifting magnet MaxX 250
maximum load 250 kg, for flat and round stock, Safety factor 3:1
Description
Premium Tecnomagnete brand lifting magnets are produced in Italy and are each manufactured from one piece. The lifting magnet MaxX 250 features a fixed hook and can hold loads of up to 250 kg. This lifting magnet works well in tight spaces, due to its compact size and low weight. The MaxX 250 is suitable for lifting flat and round objects, regardless of whether it is raw or processed material. Uneven surfaces do not present a problem either. The design of the lifting magnet ensures that the workpieces retain their shape and are not damaged during handling.

The lifting magnet is easily activated or deactivated by turning the lever. When activated, the lever is locked with a safety device so that the magnet cannot be deactivated by accident. The scatter-free magnetisation ensures a concentrated magnetic force where it is needed, hence, the lifting magnet cannot unintentionally attract surrounding ferromagnetic material. The lifting magnet MaxX 250 stands out with its powerful and consistent performance.
Read about more features and tips
Please note

Please note the table regarding the permissible material features and read the instruction manual before using the lifting magnet for the first time. Appropriate protective equipment is required. Lifted objects must not left hanging permanently and unattended. People should never walk under lifted weight.
Technical data
| | |
| --- | --- |
| Article ID | WS-LHM-250 |
| EAN | 4024574721150 |
| Material | NdFeB |
| Brand | Tecnomagnete |
| Length | 189 mm |
| Width | 79 mm |
| Casing height | 79 mm |
| Total height | 142 mm |
| Height mounting bracket | 63 mm |
| Opening of mounting bracket (max. h x w) | 43 x 35 mm |
| Length of adhesive surface | 140 mm |
| Weight for flat material (max.) | 250 kg |
| Weight for round stock (max.) | 100 kg |
| Wall thickness flat material (min.) | 20 mm |
| Wall thickness round stock (min.) | 10 mm |
| Length of workpiece (max.) | 1500 mm |
| Weight | 6 kg |